Turtle Initiatives: 2016-2018
A major initiative of the Friends of Kingston Inner Harbour for the past three years has been turtles. In 2016, we began our first citizen-science project where we managed to protect over 100 nests from predation through a citizen-science initiative where volunteers would do shoreline walks to monitor turtle activity and fill out data sheets. In 2017 we received a grant from the Community Foundation for a Turtle Awareness Initiative where we held a series of 4 community education events highlighting information about local Inner Harbour turtle species as well as Indigenous perspectives on turtles. In 2017, Queen's University Biology students also GPS located the over 100 protected nests and created three GPS location maps indicating the range. Over the past two years, over 50 citizen-science volunteers were involved in half-hour monitoring walks along the shoreline, documenting turtle activity and protecting nests. The data sheets were coordinated and the data submitted to Ontario Nature.
In 2018 we received a larger grant from the Community Foundation for close to $12,000 to hire two students to organize the citizen-science volunteers, create more complex gps location maps of nests, organize a greater number of events (14 events in total), create an ongoing Facebook page, as well as coordinate the data to submit to Ontario Nature. In addition partnerships have been set up involving Dr. Stephen Lougheed, Herpetologist at Queen's University. One of his students conducted a hibernacula study in February where he drilled through the ice and collected water samples. Turtle DNA was then isolated and extracted from the water samples to determine concentrations of hibernating turtles. In addition, one of our 2017 volunteers began a study where thermometers were inserted in some of the nests to try and determine relationships between gestation temperature and gestation time. Also HOBO equipment was purchased to create more consistent and accurate measures of water temperature as well as air temperature and humidity. The quality of our citizen-science has improved dramatically as a result of this grant. We also received a grant from Trailhead to partner paddlers and turtles and a grant for events from World Wildlife Canada. All told, a great year.
Mapping the Map Turtles – video
October 2017
Snapper Hatchlings, October 24th, 2017,
Photos by Martine B.
The little turtle wakes up in my camera bag…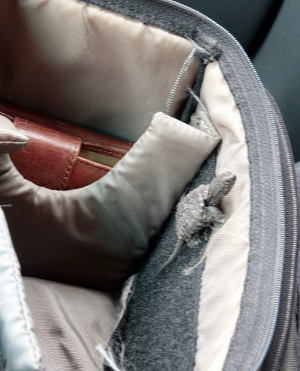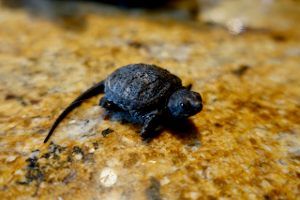 Release of my new friend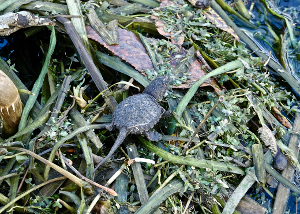 July 2017
Eggs Rescued and Incubated
Huge thanks to local hero Ric Barr for alerting us to a nest located near his business at the National Grocer's Building where heavy trucks might have crushed the eggs. Ric contacted Susan Irving at Sandy PInes Wildlife Centre in Napanee and she came out to harvest the eggs and take them for incubation. July, 2017
Rescuing a Northern Map Turtle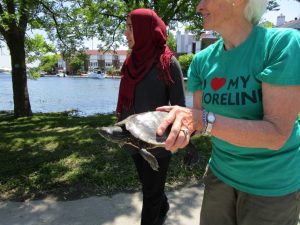 Egg-laying Northern Map turtle at Doug Fluhrer Park.
Mary Farrar rescues the turtle from being run over – June 2017.
---
Turtle Release at Doug Fluhrer Park
July 2016
Doug Fluhrer Park recently welcomed home 4 adult turtles (2 Northern Map turtles and 2 Snapping turtles) from the Inner Harbour who were returning to their homes after a stint of rehabilitation at Sandy Pines Wildlife Centre in Napanee. Mary Farar assisted Susan Irving, a volunteer with Sandy Pines, with the releases.
These turtles had been brought to Sandy Pines for care and rehabilitation following injurious encounters (usually vehicle related) with humans. These turtles were happy that their stay at Sandy Pines was relatively "short" (having been injured earlier this spring). A significant number of turtles with more serious injuries can take a full 12 months to recover sufficiently to be able to return to the wild. Sandy PInes has remarkable success with saving turtles with serious, life threatening, injuries.
The Ministry of Natural Resources requires that rehabilitated animals are released back into the environment within a mile of where they were found.
If you are interested in learning more about turtle rehabilitation or other facets of the care that Sandy Pines provides to well over 2,500 injured and orphaned animals every year, you may contact Susan at menardsa@sympatico.ca
---
September 2016
Susan Irving of Sandy Pines Wildlife Centre released five baby Northern Map turtles into the water in Doug Fluhrer Park. One turtle is quite visible to the right of the central dark rock. Two other tiny heads are visible in the water a bit further out.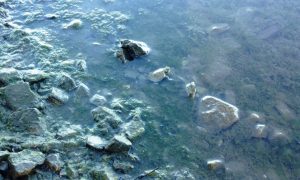 ---
Protecting the Turtles
The Friends of Kingston Inner Harbour are helping protect Inner Harbour turtles by covering nests containing laid eggs and also making a record of the turtles people are seeing. Contact 613-572-1246 and/or harbourturtles@gmail.com
Turtle Awareness Evening was held on June 7th, 2016. For stories and photos see Turtle Awareness Evening, Snapd Kingston July 2016, and Turtles' Best Friend, Kingston This Week, June 30, 2016.
An informal get-together took place in Doug Fluhrer Park on July 12th.
See Chairs for Turtles – a video of the event by David McCallum.
Inner Harbour species are mainly Painted, Northern Map and Snapping. For pics, visit
Toronto Zoo | Adopt A Pond | Resources
Below are some amazing photos of turtles sighted at the Inner Harbour.
Photographer:
Herb Helmstaedt
For more photos of turtles sighted this spring please go to the Gallery
Northern Map Turtles Basking in the Sun


Painted Turtles