A number of heritage buildings and sites still exist in the Inner Harbour area including the Bajus Brewery, the Davis Drydock, 9 North Street, the National Grocer Building, the Bailey Broom Company, the Woollen Mill, and Maplehurst, the residence of Thomas Burrowes, the 19th century clerk of the Rideau. Only one of these sites, 9 North Street, has designated heritage status. In addition there are a number of locations with a storied past, rich in intangible heritage, such as the sites of the former houses of Molly and Joseph Brant and several 19th century industrial enterprises. Plans are in process to celebrate this tangible and intangible heritage through creation of an audio tour as well as a trail brochure.
Our Heritage Initiatives:
---
1) 9 North Street (The Queen City Oil Company)
Designated Heritage Status, November 1987
The Queen City Oil Co. Ltd. warehouse at 9 North Street (better known as on Wellington St. below Rideaucrest), is a mostly two-storey limestone building designed by William Newlands in 1897. Newlands is better known for his handsome houses and his beautiful pavilion on the lakeshore near the Richardson Bath House Read more about the building in this historical account by John Duerkop. Word document
In 2014 we reported that the City of Kingston had issued a Request for Expressions of Interest in developing this property and that Hank Doornekamp of ABNA Investments Ltd. applied to repurpose the building in partnership with students from the Limestone District School Board's Building, Construction Internship Program (BCIP).
We are pleased to report that at the September, 2014 City Council meeting, the 9 North St. property was sold to ABNA Investments Ltd., the specific agreement being that: "ABNA Investments Ltd. be awarded the contract pursuant to RFP Number F31-CSI-RELD-2014-01 to acquire, stabilize, restore and repurpose 9 North Street; and that Council authorize the Mayor and Clerk to execute all agreements and documents required to ensure the sale, stabilization, restoration and repurposing of 9 North Street to ABNA Investments Ltd., upon approval by the Commissioner, Corporate and Strategic Initiatives or her designate, subject to the satisfaction of the Director of Legal Services."
Personal communications with Hank Doornekamp have established that he wishes to create 8 two-bedroom units with a single entrance on the east side of the building on Wellington St. and parking at the rear of the building between 9 North St. and Rideaucrest.
In June, 2014, ABNA took possession of the building and repurposing is scheduled to begin September, 2015.
July 2018 Update: Construction now scheduled to begin Fall, 2018
---
2) The Bailey Broom Factory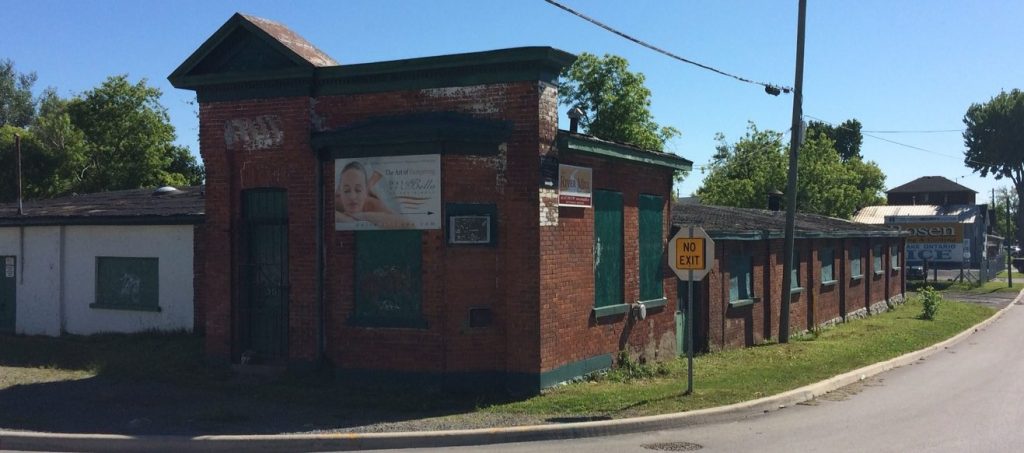 A news bulletin from the City of Kingston dated November 14, 2014 states:
"The City has issued a Request for Information (RFI) seeking submissions from individuals or corporations to purchase 305-323 Rideau St. to stabilize, restore and repurpose the property. The former Bailey Broom Factory is located at the corner of Rideau Street and Cataraqui Street, northwest of the beautifully restored Woolen Mill and Douglas Fluhrer Park – the main waterfront park in Kingston's gentrifying Inner Harbour neighbourhood.
'The public has already shown its love for this site – and we are seeking proponents who appreciate that. This RFI is to prequalify respondents to create a shortlist to participate in the next stage of this process', says Peter Huigenbos, Manager, Real Estate and Development.
He notes that 305-323 Rideau St. is a 0.69 acre site, strategically located a 15 minute walk from downtown Kingston.
The office section of the building was designed by William Newlands and Son. William Newlands also designed Newlands Pavilion in Macdonald Park and the Kingston and Pembroke railway station that now functions as the Visitor Information Centre.
The RFI, issued yesterday on Biddingo, asks interested parties to provide submissions containing:
Experience completing similar projects – Financial capacity and stability
Proposed restoration and use
Parties interested in obtaining a copy of the RFI document can either download it at or send an e-mail to the City of Kingston.
This RFI follows considerable community angst when it was discovered by accident last spring that plans were afoot to demolish this building. Thanks are due to John and Michael Sinclair of Living Rooms for drawing this to our attention, to Laura Murray (on the City's Municipal Heritage Committee) for jumping into serious political action mode and to Jennifer McKendry (architectural historian) for all of her truly wonderful historical research on this building. An emergency session of Council was called where PowerPoint presentations were made by Jennifer McKendry and Mary Farrar to educate Council as to the heritage value of this building. Many letters of support to Council were forthcoming prior to the meeting. We are most grateful to all community members that came forward to support saving this iconic Inner Harbour building. Demolition was put on hold until the end of 2016 and the City approved $60,000 to assess the condition of the building. By August, the City had heard from three local business people interested in buying the building
The City has now completed an Environmental Assessment that is not available to the public as yet. A report was presented at the City's Municipal Heritage Committee meeting on November 24, documenting the heritage value of the building completed by Laurie Smith, an Ottawa- based consultant in consultation with members of the City's Municipal Heritage Committee.
According to the Clerk's office "Next steps will include the preparation of a Request for Proposals. The requirements for heritage preservation will be determined by Council prior to awarding a Request for Proposals." Further information can be gleaned from the Facebook page – Friends of Bailey Broom Factory.
---
3) Davis Tannery Development
Following a last-minute panic when the Patry proposal to develop the Tannery property seemed about to pass Council at the September 9th Council meeting, the following motion was moved by Councillor Glover, seconded by Deputy Mayor Neill, "That Council hereby directs staff to halt the RFP process with respect to the redevelopment of the former Davis Tannery lands."
The effect of this direction is that the City of Kingston has concluded the RFP process without any award. The City's option with current owner, Rideau Renewal Inc, expires on December 10, 2014, after which the City will no longer have any rights under the redevelopment agreement for the former Davis Tannery property.
According to John Bolognone, City Clerk – "The City remains committed to seeking solutions for brownfield site redevelopment and confirms that the former Davis Tannery Property remains eligible for tax assistance under the City's Brownfield Community Improvement Program."
(For background on this property, see the President's Report at the 2013 AGM last year.
---
4) National Grocers Building
A little bit of background information was kindly contributed sent by John Grenville for future reference and includes:
"copies of the relevant material from 3 Kingston directories that are available digitally…The land on the south side of Cataraqui St. between the railway and Rideau St. appears to be vacant initially until 1918-19 when there is an entry for 'Ordnance Depot', 3rd Military District'. However …in the 1924 fire insurance plan, the building is marked as vacant. There is a 1929 amendment to the 1924 plan which might show changes to the National Grocers Building in accordance with the plans prepared by Power's architectural firm and located in Library and Archives Canada. These are plans of what are likely to be the alterations to the building to accommodate the use by National Grocers." John is trying to get a digital copy of the 1929 fire insurance plan for the Cataraqui Street area.
Link to the Archives Canada entry
Unfortunately the plan is not available digitally and a copy would have to be ordered from LAC Although John has not seen the plan, he suspects that this is the same plan that the current occupants of the building, John and Michael Sinclair, told Jennifer that they got from the archives.
This part of town is truly an interesting area – not a part of the City for which a great deal of historical research has been done.
---
5) Davis Dry Dock
Again, John Grenville, former employee of Parks Canada, has given us the following information: "Designation of the Davis Dry Dock as a National Historic Site needs to demonstrate that it had a nationally significant impact on Canadian history, or must illustrate a nationally important aspect of Canadian history. This should not be hard to do given its central importance for industry in the Rideau Waterway during the 19th century.
The nomination process is not particularly onerous – http://www.pc.gc.ca/eng/clmhc-hsmbc/ncp-pcn/elements-components.aspx.
The Friends of Kingston Inner Harbour could consider preparing a submission with help from interested community members. It would also be useful to have letters of support from other organizations such as the Kingston Historical Society and the Frontenac Heritage Foundation. We are looking to find members of the Friends of Kingston Inner Harbour interested in taking this on as a project.
---
6) The Outer Station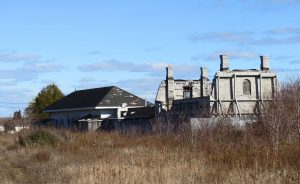 Considerable controversy currently surrounds this building and its future. Hank Doornekamp of ABNa Investments has stated that he has purchased this heritage property from the Federal Government. Only a few bureaucratic details need to be worked out before he takes possession sometime in 2015! His dream is to take apart the stone section of the building stone by stone and transport it into Doug Fluhrer Park where he will repurpose it as an office building. It is a designated heritage building. Hank feels that the northern part of Montreal St. will not be developed for 100 years and therefore that restoring the building in situ is not worth his while economically. As he will begin work on 9 North Street in September 2015, he would also like to work on the Outer Station at the same time and in the same place. Hank's work is truly excellent. He is a reputable builder, is interested in history, and has an eye for interesting detail. He would do an excellent job. Questions remain:
He wants to build in Doug Fluhrer Park. Many community members are opposed to him building in a park – period! However, he has suggested that he would give the City more parkland from his Woolen Mill property than he would use in the development. He will give a wide ribbon of waterfront park land that he owns at his Woolen Mill property immediately north. The community remains divided about this.
Some community members feel that it would be better to let the building rot in site than move it.